Years ago our land and parts of our culture were stolen due to colonization – but that's not where it stopped. Our sisters were (and continue to be) stolen as well. Over the past year or so, there seems to have been a large increase in awareness for Murdered & Missing Indigenous Women (MMIW) – red dress specials at powwows, marches across the country, and MMIW apparel.
MMIW Awareness Day was first introduced in 2016 and this movement brings awareness to the disturbing acts of violence towards Indigenous women and honors those who have been stolen from us. There are lots of Indigenous people doing great work in this area, a few of which we've decided to highlight.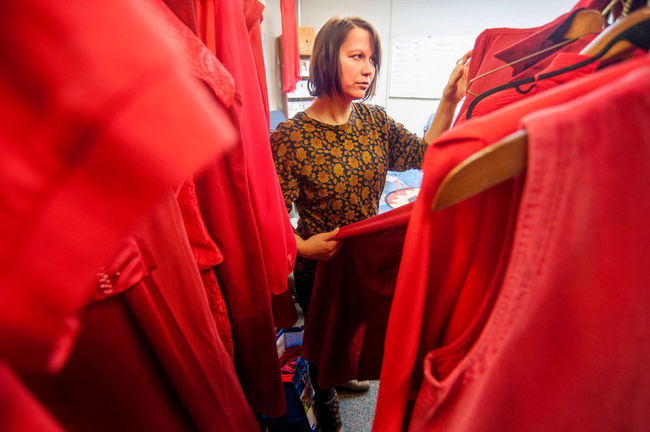 Jaime Black is an emerging, metis multidisciplinary artist based in Winnipeg.  She is the founder of The REDress Project that focuses on MMIW across Canada and seeks to collect 600 red dresses via community donation that will later be installed in public spaces as a reminder of the shocking number of women who are no longer with us. Jaime hopes to draw attention to the gendered and racialized nature of violent crimes against Aboriginal women and to evoke a presence through the marking of absence.
Jordan Marie is an athlete who recently made headlines after running the 2019 Boston Marathon. As Jordan ran the 26.2-mile race, she said the name of a missing or murdered Indigenous woman at each mile, along with a prayer.  On her Instagram post, Jordan shared that has used her running platform to bring awareness to "epidemic and national crisis of Missing and Murdered Indigenous Womxn, Girls." 
Missing and Murdered Indigenous Women USA is a
community-led initiative dedicated to bringing home missing American Indian women and to support the families of those who have been murdered through the process of grief. MMIW USA has started the Staying Sacred program that teaches lessons on self-defense and trafficking awareness.  The strength of this program lies in the fact that every single one of the staff and volunteers have been assaulted or trafficked and their passion is to be the kind of organization that was needed growing up and beyond.
The Urban Indian Health Institute reports that in 2016, there were 5,712 cited reports, but only 116 of those cases were logged into a Department of Justice database. Coincidentally, these numbers only represent the number of known incidents – there are many more MMIW that we are unaware of.  According to Indian Country Today, no one knows how many Native women have disappeared and it's unlikely that you'll even hear about them unless you know them or their family. Today I wear red, but every day I fight to bring justice for my childhood best friend and countless other missing and murdered Indigenous women and girls.
"It's unconscionable that we must beg for justice for our sisters, aunts, and mothers—but that's our reality." ~Abaki Beck